---
SILICONE SOLAR LANTERNS WITH POWER BANK FUNCTION
---
---
---
---
---
Never waste money on torch batteries again! The NIGHT COMMANDER Solar Flashlight Is Solar Powered! (Powered By The Sun)
Powerful 500 Lumen Flashlight That Can Be Seen From Up To 500 Meters Away!
Emergency Strobe Light Setting Along with four more Lighting Modes.
Charge Your Phone Anywhere, Anytime with the USB Port!
Features:
Solar Powered Recharging
High and Low Beam LED modes
Glass Breaking Hammer
Solid and Durable but not too heavy to carry
Personal alarm function
Built-in magnet
Rope and seat belt cutter
IP67 water resistant
---
---
SOLAR LANTERNS – BACK IN STOCK SOON
About Solar Lanterns
This waterproof solar lantern takes the sun jar (solar bottle) concept to a much higher level.  This stunning model is extremely bright putting out roughly four times the amount of light a sun jar could.  This awesome lighting ability is thanks to the three super bright LED's and diffused silicone material which disperses this light beautifully. The solar lantern has dual light output power settings, high and low. It also features a flashing function which could be useful for signalling in an emergency situation.
When on high power mode it will provide light for up to 5 hours. When it's on low power mode it will provide light for up to 10 hours.
This solar lantern is waterproof, you can store keys and mobile phones in it while camping or boating. It has IP66 waterproof rating.
Waterproof Silicone Solar lanterns - Key benefits:
Silicone Solar lanterns - Charging: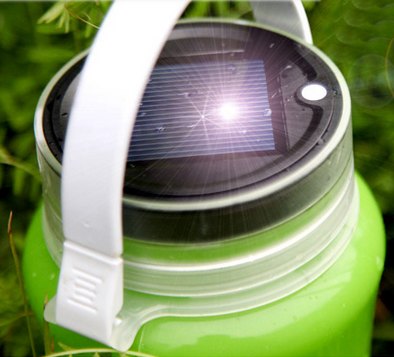 Solar charging
Simply store this solar lantern on a sunny window sill, grab it when you have load shedding and it will provide phenomenal lighting.

USB Charging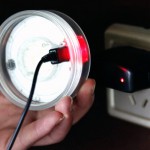 Plug the supplied USB cable into in USB power source to charge this solar lantern fully in just 3 hours if you use your phone charger to charge it.
Silicone Solar lanterns - Charging: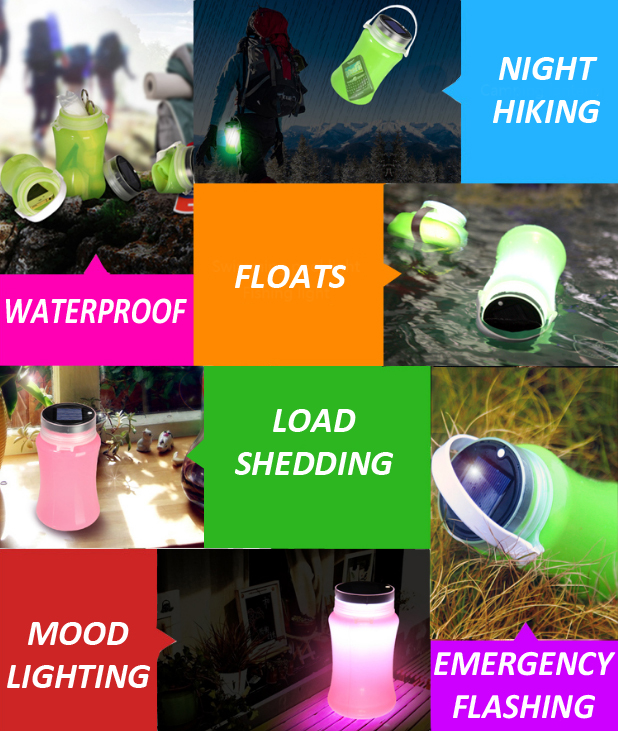 Solar Lanterns Specifications:
Max Lumen output (High setting) : 100LM
Low Lumen output (Low setting): 50LM
Waterproof IP66
Battery: 1000mAh
Operations Modes: Low, High and Flashing
Charge time using USB: 3-6 hours depending our power source
Charging time by solar: 55 hours
Operation time: 6 hours high mode, 10 hours low mode.
Materials: Non toxic silicone and ABS
Size: 100mm x 167mm
Solar Lanterns Accessories:
Solar lantern LED lid, solar lantern bottle, solar lantern neck assembly and USB cable to charge from USB port
SOLAR LANTERN WITH DYNAMO CHARGING
Solar lantern with dynamo crank
This solar lantern can charge by sun power or using the hand crank known as a dynamo.
Specs:
Lights: 6 LED
Solar panel: 0.5 watts monocrystalline
Size:  90mm x 90mm x 160mm high
INFLATABLE SOLAR LANTERNS
INFLATABLE SOLAR LANTERNS
We are motivated to bring solar power to South Africa by selling a variety of stunning solar-powered LED lights.   While these are practical we believe they should also be beautiful.  South Africa will be experiencing power outages for years to come. We believe that our inflatable solar lanterns are far more versatile and sustainable than torches that use disposable batteries.  The inflatable solar lanterns are safer and brighter than candles and paraffin lanterns.
The inflatable solar lanterns are both waterproof and shatterproof, with a built-in rechargeable battery. Our inflatable solar lantern can hold a charge for up to 12 hours staying bright all night. The inflatable solar lantern is ideal for boating, hiking, camping and emergency breakdowns.
The inflatable solar lanterns also make stunning decor items, place them on a table at a wedding or hang them from the trees or under a patio. Watch the magic come to life. The solar lanterns are ready for any weather at any time or in any place.
Inflatable solar lantern features:
Lightweight
Waterproof
Inflatable
Rechargeable
Portable
Eco-friendly
Long lasting
Affordable
About Inflatable Solar lanterns
How do they work?
The inflatable solar lanterns have three main components that make it work:
The solar panel that captures photons from sunlight or incandescent light
A rechargeable internal lithium battery that stores power
10 LED bulbs that produce light when needed
The inflatable solar lantern does not require any additional parts, since her unit contains solar PV cells, a battery, and LED lights all in one.
The inflatable solar lanterns will charge fully in 8 hours when facing sunlight.  These lanterns can even charge in cloudy weather or under incandescent light. To charge inflatable solar lanterns in incandescent light, place the solar panel close to the light bulb, but not so close that it becomes hot.  It will take longer than 8 hours to charge under incandescent light.